MY STORY by Nola Josephine Modine "Fairbanks" Larkin
NolaJo24@aol.com
Facebook: Nola Modine Fairbanks Larkin



I was born December 10, 1924, the third child of Alexander Revard Modine and Zella Vonola Fairbanks Modine. My family was living on a desert oasis in Tecopa, California, called China Ranch. It is near the town of Shoshone, California on the edge of Death Valley. Just months before I was to be born, my brother Wylder, almost three years old, was playing with my other brother, Ralph Daniel, almost four, when Ralph accidentally set a fire while playing with matches in a hillside cave. Ralph was burned to death before anyone could save him. The family refers to this event as "the tragedy" and it represented a milestone in our lives. People spoke of life before the tragedy and life after the tragedy. These were two different lives.


When it was time for me to be born, my family traveled to Santa Paula, California where my mother had friends and there would be a doctor. Of course the family was feeling a lot of sorrow at the time. We returned to China Ranch and lived there until I was about 2 years old. At that time, my mother was determined to move away from the place that had so many sad memories, and so she burned the house down and my parents sold China Ranch and moved with little Wylder and Nola to Santa Paula for good. Mom didn't tell the truth about the fire for years and everyone assumed it was accidental at the time.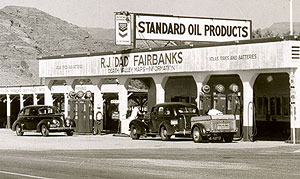 My younger brother Mark Alexander was born just before the country entered the great depression. My grandfather, Ralph Jacobus Fairbanks had a thriving gasoline business in Baker, but almost lost everything when the banks closed their doors. The Standard Oil Company kept him going until he could recover, which he did. Before Baker, he had a business in Shoshone since the early 1900s where he purchased his gasoline in 5 gallon cans. I spent a lot of time in the remote towns of Shoshone and Baker growing up. Every year we went to the desert for Thanksgiving dinner.


My grandpa, Ralph, used to give me a little bag of pennies whenever I came to visit him. I remember one time that we left Santa Paula to take the train to Shoshone. We first went into a park in Los Angeles to feed the pigeons and then went to a cafeteria where we ate lunch. I got sick and threw up on my dress and he took me to a department store and bought me a new dress, throwing the other one away. The train to Shoshone is gone now and the tracks were torn up 50 years ago.


From a very early age, I wanted to be in show biz. I thought it would be movies or the circus. I had a friend whose mother worked in a beauty parlor and she would bring me old movie magazines to read and dream. Finally, a dancing teacher, Jimmy Granger, began to come to Santa Paula from Los Angeles once a week. He was with the Meglin Kiddies whose most famous member was Shirley Temple. My brother Mark and I took lessons and became Meglin Kiddies. I was 13 years old when the dancing teacher stopped coming and we found a local singing teacher by the name of Harriet Coplantz to teach me singing. I found my calling--to sing, and I sang in many places. I sang in clubs and churches in Santa Paula and I sang in radio contests in Los Angeles.


My grandma, Celestia Fairbanks came to live with us when I was almost 14. She was ill with diabetes and blind at the time, but she loved to sing and I remember her singing the LDS hymn, "In Our Lovely Deseret". My grandpa, Ralph came back and forth from his business in the desert at first, but eventually, he came to stay as well. Ralph and Celestia lived with us for a number of years, and when grandma died one day, grandpa called my mom into their room and just said, "She's deader'n hell."


Just before my 17th birthday in 1941, the Japanese bombed Pearl Harbor and we were at war and the world was in turmoil.

Wylder joined the army and became a B-17 pilot. He was in danger every day, flying and bombing the enemy and one day his plane was shot down. His arm was almost completely blown off. The field surgeon was able to save it and replaced his elbow with a stainless steel bolt and he eventually recovered. Mark joined the Merchant Marines when he turned 17 and was wounded in the knee.

My mom decided to move to Hollywood with me to pursue my career in 1942. Grandpa moved with us as well. It was sad to leave our home, and soon I learned that my parents were getting a divorce. Grandpa died at the beginning of my career in the Hollywood Nursing Home. One of the last things he said was spoken after hearing me on a radio show. He said, with pride, "That's my granddaughter!"

I was only 17 when I auditioned for the Lionel Barrymore production of a musical story called; "Halloween" and I got the part along side two grown men, and me, a teenager! We performed at the Hollywood Bowl and the Standard Symphony Hour as well as the Hollywood Canteen for servicemen.

My first, and only, movie role was a small "bit" part in "The Corn is Green" starring Bette Davis. I was a "glorified extra" which meant that I got to say a few words and those were, "Yes, Miss Moffat!" You have to look real hard to see me or you will miss it! My salary was $10 a day.

Next, I was hired as a soloist with the Sonja Henie Ice Show and I did two national tours and traveled all over the country. Most of the stadiums where we performed have since been torn down, like in Chicago (Chicago Stadium) and New York City (the original Madison Square Garden). When the tours ended, Sonja Henie asked me to come to New York to perform in her 1949 Ice Show, "Howdy Mr. Ice", at the Center Theatre in Rockefeller Center, another building that was torn down to make way for a skyscraper.


It was at this time that I changed my professional name from Nola Jo Modine to Nola Fairbanks, taking my mother's maiden name.

In 1950, I was hired for my first Broadway musical after auditioning alongside 700 other aspiring performers and only 6 were chosen. So, I joined the chorus of Cole Porter's "Out of this World", but soon became the understudy for the lead. Shortly after, she became ill and I assumed the lead role of Helen. It was very exciting to be directed by Cole Porter. I still cherish the telegram of congratulations he sent to me.






It was 1951 when I joined the Broadway cast of "Paint Your Wagon" as the understudy for the ingénue lead, Jennifer Rumson and eventually assumed the lead role, opposite James Barton who played Ben Rumson. This part was, strangely enough, almost an exact duplicate of my mother's experiences as a young pioneer girl who traveled from southern Utah to Death Valley. I stayed with the production after it left Broadway and went on a national tour with Burl Ives playing the part of my father.

One summer, I worked with Dick Haymes in the Dallas Theatre production of "Miss Liberty" where they picketed him as being a "draft dodger." I also performed in "Die Fledermaus" and then "Bloomer Girl" in Toronto.

After that, I joined Mike Todd's production of the Johann Strauss operetta, "A Night In Venice." It was the opening show at the newly-constructed Jones Beach Theatre in Long Island, NY.


I had just finished "A Night in Venice" when I married Jim Larkin in 1954. Later that year, I won a contest on the Arthur Godfrey radio show, and then appeared on his television show for a time after that. My first child, Alex, was born a year later when I was 31. My final Broadway opportunity came soon after when I replaced Florence Henderson as the lead in "Fanny" co-starring Ezio Pinza.


My professional career had come to an end. Two years later Jenny was born, then Cecilia two years after that and finally Josephine another two years after that (4 children born in 5 ˝ years) It was time to raise the family I had always wanted and that took most of my energy for the next 30 years. During that time, I lived in Larchmont, NY and Greenwich, CT and performed in local theatre, church choirs, concerts, movies and even a couple of night clubs in the Catskills. I had a great time with my relatively short career, but I loved raising my 4 children and now I have 17 grandchildren and one great-grandchild.

Now that my daughter Cecilia and her family have moved to Sandy, Utah, I get to spend some time in the place where my great-grandfather, David Fairbanks and his wife, Susan Mandeville Fairbanks traveled to from the east coast to raise their family in the West. My other great-grandfather, Philo Johnson came to Utah all the way from Newtown, Connecticut and operated the mileage-counter on Heber C. Kimball's wagon with the first battalion that entered the Salt Lake Valley. They all ended up in Payson where they built a town and raised their families.


In 2004, all of my kids, their spouses and many of my grandchildren met in Shoshone for Thanksgiving with our extended family of cousins to celebrate my 80th birthday. It was just the same as I remember it so long ago, preserved by my aunt's granddaughter, Susan Sorrells. We visited the house my mother lived in as a little girl, the bar where they had a spittoon, my grandfather Dan Modine's 120 acre homestead called "Modine Meadows" and we even ate Thanksgiving dinner at China Ranch, the scene of the tragedy and where the date trees my mother planted so many years ago still bear fruit for a thriving date business run my aunt's grandson, Brian Brown and his wife, Bonny.

I currently live with my oldest daughter in Greenwich, Connecticut, but I spend much of my time visiting all of my children across the country in California, Georgia and Utah.

I'd love to hear from you. Please send me email at nolajo24@aol.com